Type your Finland Post tracking number below, get live delivery information with our express tracking system.
About Finland Post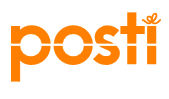 Finland Post is the company responsible for postal service in Finland. Posti Group Corporation is wholly owned by the Finnish State. The ownership policy of Posti and other state-owned companies is managed by the Ownership Steering Department of the Prime Minister's Office, which is responsible for the preparation and execution of the ownership strategy and the development of sound corporate governance.
Finland Post Tracking Help
If you have problem with our express tracking system, please track your package directly on the Finland Post website.
If you get no tracking information from Finland Post official website, you'd better contact them.
Related Tracking
Help Center of Finland Post Tracking
If you have problem with our Finland Post Tracking system, submit your problem here, we will help you as soon as possible.
Declare: We can NOT contact carrier or others on your behalf, we can only help you track your package with your Finland Post Tracking number on official tracking system.